Fenix - ARE-X1+ Smart Charger
Fenix - ARE-X1+ Smart Charger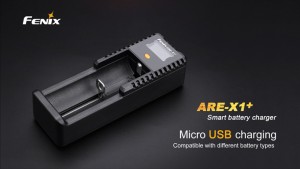 Description
Details
Reviews
Similar Products
Description:
This single channel smart charger, is built for different sizes of rechargeable Li-ion batteries, as well as Ni-MH and Ni-Cd batteries. In addition, the micro USB charging port offers versatile universality. While charging, the user-friendly LCD screen indicates the battery level and charging status clearly. Built-in multi-protection guarantees charging safety.
Features:
•Input: DC 5V/1.0A, from external power source
•Output: 4.2V/1.0A: 18650, 26650, 16340, 14500, 10440 (Li-ion)
•1.5V/1.0A: AA, AAA, C (Ni-MH/ Ni-Cd)
•Size: 113mm x 38mm x 29mm (Length x Width x Height)
•Weight: 58 grams (excluding charging cable)
•Operating temperature: -20deg to 50deg
•Operating humidity 5deg to 90deg
•Storage temperature: -20deg to 85deg
Choose $12 Shipping on Check out.
Customer Reviews