Pro Ears - Pro 200 (Many Colours)
Pro Ears - Pro 200 (Many Colours)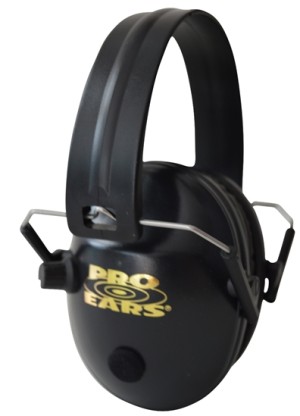 Description
Details
Reviews
Similar Products
Protect your hearing with the Pro 200 electronic earmuffs by Pro Ears. These ear muffs have a strong steel headband and comfortable Pro Form ear seals to provide long lasting protection in loud environments. These muffs have a Noise Reduction Rating (NRR) of 19 and utilize exclusive DLSC Technology to compress loud sounds. Batteries included. 250 hour Battery Life.
Spring form steel headband for increased compression and rugged construction
Compact, foldable design electronic ear muffs
Preset at 15 decibels of amplification
Exclusive DLSC compression technology allows the user to hear all commands clearly - indoors & outdoors
Soft & Comfortable Pro Form leather ears seals don't crack or sweat
Dual Circuit Boards
Amplifies non-harmful sounds while blocking out harmful sounds (such as a gunblast)
Individual volume controls (no exposed wires)
NRR (noise reduction rating) is 19
Made in the USA
Three (3) Year warranty
The Pro Series Advantage is incredible performance and price.

If your job calls for occasional use of hearing protection but situational awareness still matters. The natural sound of the Pro Series is almost as good as the Gold Series and is better than any other active hearing enhancement product on the market. The biggest difference in sound between the Pro Series and Gold Series is a longer attack time of 5.5 milliseconds versus 1.5 milliseconds for the Gold Series. The Pro Series has the same great 8X sound amplification to ensure you hear the bad guys before they hear you.

Great sound, fewer features, lower price. The Pro Series does not have all the features that come standard with the 8 bit microprocessor on the gold Series but they do offer great sound, real comfort and effective sound attenuation. The Pro Series offers industry leading DLSC™ compression technology, wind abatement programming and built-in quality similar to our top of the line Gold Series. The circuit board reduces high frequency filtering which may benefit those with high-frequency hearing loss. Separate circuit boards, one in each cup, with their own on/off and volume controls eliminates the need for wires and increases reliability and adjustability. We thought about offering a recessed, electronic volume control with on/off switch (they look cool) but after in-field tests proved a shooter wearing gloves had better control with our old fashioned pots we decided performance was more important than looks.

ProForm™ leather ear cushions with visco-elastic foam ensures the highest level of sound attenuation and comfort available. An internal battery compartment eliminates unnecessary cuts or voids in the external cup, improving the noise attenuation properties of the cup. No tools are required to change the battery. The Pro Series offers the longest battery life in its class.

Our reliability gives you the confidence to be your best. We believe in our American-made electronic ear muffs so much we have provided the longest, most comprehensive warranty in the industry. Independently tested and certified.
Customer Reviews