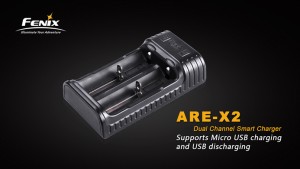 Description
Details
Reviews
Similar Products
Description:
Fenix ARE-X2, dual channel smart charger is built for multiple types of rechargeable Li-ion, Ni-MH and Ni-Cd batteries. The charger will automatically choose the correct charging mode for each battery. It also features USB battery discharging for other devices, and the user-friendly LED indicators inform you of charging/discharging and power status.
Compatible with the following battery types:
Li-ion batteries: 10440, 14500, 18650, 26650
Ni-MH or Ni-Cd batteries: AA, AAA
Features:
·Input: DC 5V, 1.5A (Max)
·Output: 5V, 1.5A: 18650, 26650
·5V, 1.0A: 16340, 14500, 10440
·Size: 115mm Length x 63mm Width x 30mm Height
·Weight: 96 grams (excluding charging cable)
·Operating temperature: -20c to 50c
·Operating humidity 5% (0c) to 90% (40c)
·Storage temperature: -20c to 85c
Choose $12 Shipping on check out, unless you purchase together with a Flashlight that states $6 shipping or Free shipping … then you'd follow that option.
Customer Reviews