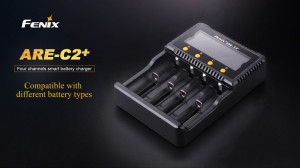 Description
Details
Reviews
Similar Products
Fenix ARE-C2+ is a four channels smart charger, which is compatible with different types of Li-ion and Ni-MH/Ni-Cd batteries. High definition LCD screen displays charging status and battery level clearly. In addition, a car charging mode offers high convenience for users.
Features:
·Input: AC100-240V/50-60Hz/0.35A (max) or DC12-24V/1A (max)
·Output: 4.2V, 1.0A: 18650, 26650, 16340, 14500, 10440 Li-ion battery
1.5V, 1.0A: AA, AAA, C Ni-MH / Ni-Cd battery
·Rated output power: 6W (Ni-MH/ Ni-Cd), 16.8W (Li-ion)
·Size: 145×75×38.5mm (length*width*height)
·Weight: 276.5g (excluding charging cable)
·Operating Temperature: -20℃ to 50℃
·Operating Humidity: 5% to 90%
·Storage Temperature: -20℃ to 85℃
* Anyone Buying a Flashlight over $300, plus the Re-chargeable batteries for it, will get this Charger for FREE !!
Customer Reviews