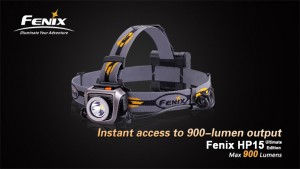 Description
Details
Reviews
Similar Products
Description
Besides an optimized size, Fenix HP15 ultimate edition features a dedicated switch that makes 900-lumen burst mode directly accessible even if the light is off. With six outputs including SOS, rugged aluminum chassis and IPX-6 waterproof rating, this headlamp is a reliable tool for mountaineering, searching, caving and more.
Features:
·Utilizes Cree XM-L2 (U2) LED with a lifespan of 50,000 hours
·Uses four AA batteries, either Ni-MH or Alkaline
·Light size: 67.4mm × 55.9mm × 34.7mm (2.7''×2.2''×1.4'')
·Battery case size:88.8mm × 73.7mm × 26.2mm (3.5''×2.9''×1'')
·154.2 g (5.4 oz) excluding batteries
·Digitally regulated output maintains constant brightness
·Lockout function – prevents the light from accidental activation
·60-degree tilt mechanism
·Reverse polarity protection guards against improper battery installation
·Made from durable aluminum alloy and performance plastic
·Premium Type III hard-anodized anti-abrasive finish
·Toughened ultra-clear glass lens with anti-reflective coating
** Be aware, this model is 400 Lumens for regular/continuing setting (on high).. the 900 Lumens is only a press and hold down burst of 900 Lumens, when want to focus on something for short moment. This is not a bad option, as 400 Lumens more than enough for most uses and save battery life and use burst when really want/need to take another look at something across the way in between some bush, etc… I chose to list model, as per my own hunting experience with an older Coast headlamp use, under 100 lumens is enough to walk down the trail on way out of the bush.
Special – Only $8 Shipping !!!
Customer Reviews