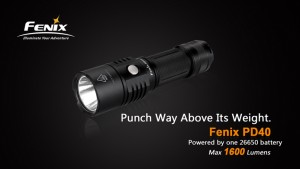 Description
Details
Reviews
Similar Products
Description
Do not let its size fool you. The compact PD40 flashlight is equipped with a powerful Cree MT-G2 neutral white LED and is powered by one 26650 rechargeable Li-ion battery. It puts out a 1600-lumen output with a beam distance of 200 meters from a 14.5cm (5.7in.) package and is a new favorite among flasholics and nighttime adventurers.
Features:
·Utilizes Cree MT-G2 (P0) LED with a lifespan of 50,000 hours
·Powered by one 26650 rechargeable Li-ion battery
·Size: Length: 145mm (5.7 in.) Diameter: 40mm (1.6 in.)
·Weight: 172g (6.06 oz) excluding batteries
·Digitally regulated output - maintains constant brightness
·Reverse polarity protection guards against improper battery installation
·Over-heat protection to avoid high-temperature of the surface
·Low-voltage warning function to remind you to replace the battery
·Intuitive one-button operation
·Made of durable aircraft-grade aluminum
·Premium Type III hard-anodized anti-abrasive finish
·Toughened ultra-clear glass lens with anti-reflective coating
This Model doesn't have the extra beam distance as few other models, but wow, at 1600 Lumens and wider head size, it'll be Great for one who wants brighter/wider field of view, and 200m beam distance is just plenty !! …. And Also, be aware, it's 1000 Lumens in a locked continuing mode, and the 1600 Lumens is only available in burst mode, which means, at any time, you just hold down for one second, it'll burst to 1600 lumens, until you let go, so can save battery by using 1000 lumens on higher brightness uses, on just burst and hold when want to focus on something. Great feature, so you're not over using and killing your battery !!
Special – Free Shipping !!
Customer Reviews