Revision - Shadow Strike Deluxe
Revision - Shadow Strike Deluxe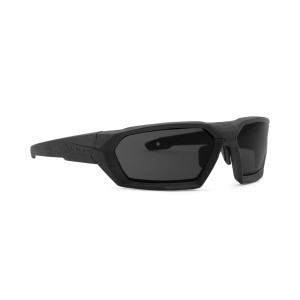 Description
Details
Reviews
Similar Products
ShadowStrike Sunglasses have a sharp, geometrical wraparound design, giving this line a distinctive look while maximizing protection—fitting squarely, securely, and comfortably at all times, for any operation.
Built to exceed stringent U.S. and international ballistic impact requirements for use in military and tactical operations
Sleek, secure, and unobtrusive, ShadowStrike Sunglasses fit seamlessly with various head systems, headborne equipment, and comms systems
Compact, low-profile design with a tighter curvature and unrestricted field-of-view—fits squarely, securely, and comfortably at all times for any mission
Tested under EN 166 standards, Revision's OcuMax Plus is proven to last longer than competing anti-fog solutions by a factor of 10-20 times, is chemical-resistant and prevents scratches, streaks, and smears
Precision manufactured interchangeable lenses for distortion-free vision and 100% UV-A-B-C protection
A novel nosepiece mechanism makes changing out the polycarbonate dual-frame lenses, and adapting your eyewear to the mission at hand, quick and easy
KIT INCLUDES
Low profile frame
Clear, solar and Yellow lenses
Microfiber pouch
Microfiber Cloth
Strap
Hard case
2-pair lens pouch
Anti-fog wipe
One Size Fits All
Width: 132mm
Lens Height: 45mm
Temple Arm Length: 120mm
Lens: Clear, Solar, Yellow, Vermillion, Midnight Mirror, Silver Mirror
Frame: Black, Gray, Tan 499
* Select $15 Shipping on Check out …. NOTE: This Model will be Available starting beginning of Feb.. Order Now, to resere one !
Customer Reviews