traser - Outdoor Pioneer Chrono
traser - Outdoor Pioneer Chrono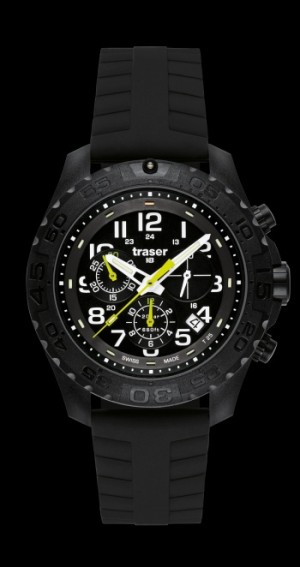 SKU/Code:
Outdoor Pioneer Chrono-
Stock:
Description
Details
Reviews
Similar Products
The Outdoor Pioneer Chronograph is the first traser ® H3 watch with a trigalight ® illuminated date window! Quartz movement, 44 mm, case and bezel glass fibre reinforced polyamide, bezel unidirectional rotating, mineral crystal K1 and 660 ft / 290 psi water resistant.
Specs:
Movement: Ronda 5030.D Quartz
Case: Glass fibre reinforced polyamide.
Bezel: Glass fibre reinforced polyamide, unidirectional rotating
Crystal: Mineral K1
Water Restnt.*: 200m (660 ft) / 290 psi
Size: Ø 44 mm H 14.3 mm ................. (Good for med. - lrg. wrist sizes)
Weight: 77 g (with standard strap)
Dial Colour: Black
Illumination: 1-11 green, 12 orange, H/M/SE hand green, bezel green, date green
* Not in stock. Special/Custom order, so it's on our next shipment. *5% OFF for Pre-pay Special Orders.
A traser® H3 watch is a Swiss made quality product with an unsurpassed readability in darkness. The trigalight® illumination of a traser® H3 watch is independent of a battery and does not need sunlight for charging. A traser® H3 watch is robust, reliable, and standardized according to military specifications.
trigalight® are small, airtight sealed glass tubes, coated on the inside with a luminous substance and filled with tritium gas. Electrons emitted from the gas excite the material to give off a permanent, cold light. trigalight® have a guaranteed lifespan of at least 10 years.
Customer Reviews