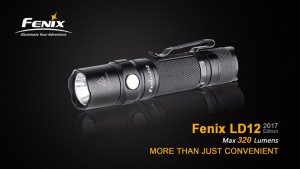 Description
Reviews
Similar Products
The redesigned Fenix LD12 is now compatible with 14500 rechargeable Li-ion batteries. It's fitted with a CREE XP-G2 R5 neutral white LED for better color rendering, and delivers maximum 320 lumens. With four brightness levels plus strobe mode, and convenient dual switch, the LD12 is definitely the must-have flashlight for everyday carry

.
Features
·Uses Cree XP-G2 R5 neutral white LED with a lifespan of 50,000 hours.
·Powered by a 14500 rechargeable Li-ion battery with button top or one AA battery
·102.5mm Length x 21.5mm Head diameter x 20.5mm Body diameter
·56 grams (excluding battery)
·Digitally regulated output maintains constant brightness
·Low voltage warning reminds when battery replacement is needed
·Overheat protection, to protect from high surface temperature
·Anti-roll and anti-slip body design
·Tactical tail switch for momentary-on activation
·Side switch for output selections
·Made of durable aircraft-grade aluminum
·Premium type Ⅲ hard-anodized anti-abrasive finish
·Toughened ultra-clear glass lens with anti-reflective coating
Please Select $12 Shipping on Check Out.
Customer Reviews